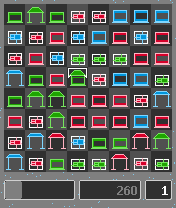 Objective:

Gain as much score as you can, easily passing game levels one by one. Think about merge strategies that bring much more score than usually.

Layout:

Chess-board is a place where player moves cells with images. Its size depends on phone screen capabilities. Three indicators on the bottom show game progress. They are, from left to right: progress bar to show percent of level completion, total score counter and game level counter. Once player exceeds top records, particular indicator highlights.

Controls:

Use keys move flashing cursor across game board in eight directions. Once cursor reaches any edge, next step forwards cursor to the opposite side. Joystick buttons can be used as well.
on numeric keypad to
Use key choose cell for action. Once selected, cell shows dotted outline over its perimeter. Next press on any of these keys cancels selection, outline disappears.
on numeric keypad or joystick button "select" to
Use key invoke game setup menu where player can view and/or reset score records and manage appearance of game themes.
on numeric keypad or soft keys (if permitted on your device) at any time to
While playing the game, use key restart game level. This action reverts score to value gained on previous level.
on numeric keypad to
One can exit game at any time by pressing "End of phone call" button, that is being used to finish regular phone calls. Or player can enter game setup and use command "Exit" there. Only these ways store your records in memory!

Action Rules:

Player can merge only those cells that bear same color elements. Select some cell, move cursor over some cell that player might think is mergeable (apply common logic!) and press select key. If cells are eligible, they merge. Player accrues some score. If target cell is surrounded by similar one, they repeat merge, thus bringing much score at once, and even progressing bonus!

I hope you enjoyed my game!